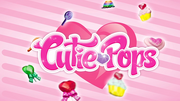 Cutie
Pops
are a series of customizing play dolls made by Jada Toys Inc that began to appear around 2012. Widely known for their amazing, changeable features these fashionable friends are sweet and ready to become part of any collection!
The Cutie Pops are unique, trendy friends who love to decorate and accessorize everything in their colorful world. These dolls have clothes and accessories that every girl loves from cute hearts, to pretty rainbows, to all kinds of delicious sweets!
You can express your own Cutie Pop style with unique style pops that are easy to use and share. Each doll comes with different style pops. When you want to change your doll's outfit, just simply pop out the accessory she has on and mix and match with a new pop. You can switch pops with friends to create all kinds of cute looks. Instead of cutting a Cutie Pop™'s hair, just pop out each side and pop in a new style! You can change the color, the shape, and even the length of your doll's hairstyle. For the first time ever, your doll can have different color and style hair on each side. Isn't that super awesome?
You can create an endless world of delicious "pop" styles and cool looks that can be changed over and over!
Characters
Edit
For information on your favorite cutie, or to find your perfect match then view these pages:
Merchandise
Edit
Many pieces of Cutie Pop merchandise has been released so far. For more information on them please view their individual pages.
Dolls
Petites
Cutie Pops Sweets
Special "Movie Night" doll
Fashion packs
Hair and Eye packs
Toy Sets
Pets
Pop Packs
Swirly Brights
Some have noticed a similarity between the Cutie Pops and a mysterious woman known only as Blythe.
Community content is available under
CC-BY-SA
unless otherwise noted.